Latest News
SNAPCHAT
Last week SnapChat, used regularly by many children and young people, launched a new feature. SnapMaps allows users to see the location of their contacts. This feature allows others to accurately pinpoint where you are. There are three possible privacy settings:
Ghost mode, where only you can see your position;
My Friends mode, where any contact can see your location; and
Select Friends mode, just those who you choose can see you
ChildNet have posted a thorough explanation of SnapMaps and how to ensure users stay safe. Well worth a read to share with anyone you know who uses the app.
Harvest Festival Thankyou Letter
Geography Field Trip
Our Year 10 GCSE Geography pupils enjoyed glorious weather in Wales as they explored the rivers for their coursework project....some people even managed to fall in!
Lostock Cross Country
The annual event hosted by Lostock took place on Monday March 7th 2016.
This year over 400 runners from across Trafford participated in what was the biggest event yet in a series of 6 races.
In addition as part of the Sports Leadership course Lostock students had been working with the Sky Living for Sport team in preparation for the big day. Sophie Cox G.B international judo star helped to mentor the students and attended on the day of the event to present medals and trophies at the end.
World Book Day
Syrian Shoe Box Appeal
Four years of war in Syria has led to a humanitarian crisis. Pupils at Lostock college took part in a recent shoe-box appeal to collect item for the millions of displaced people facing life without food and shelter. Many of these people are small children who have lost everything from their homes. The appeal was launched at the start of September. Pupils and staff were asked to bring in items for shoe boxes:
2. Toiletries and hygiene items
3. Clothing and shelter items
Year 10 Lostock ambassadors helped collect, sort and label the boxes ready for collection. These will be dispatched with aid conveys next week to reach refugee camps in Calais and Macedonia.
The pupils did a fantastic job in bringing in a range of items from nappies to warm clothing which will prove essential for survival in the winter months. In total 30 boxes have been packed and will be loaded into vans next week.
Many thanks to all the staff, pupils and parents that contributed.
We will be continuing the appeal through the year.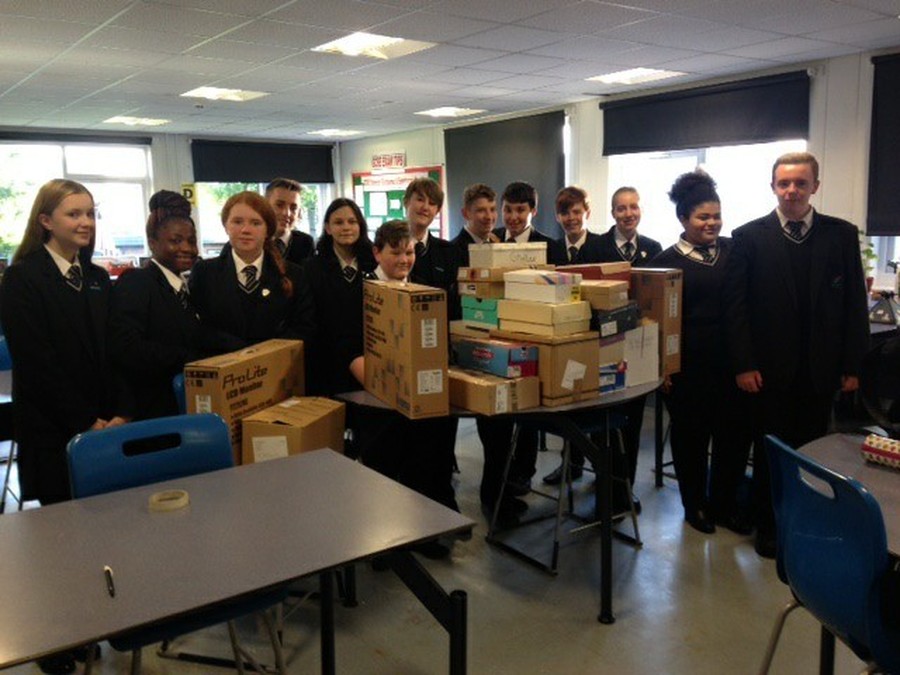 Sainsbury's School Games Award
FoodBank
Thank you for all the generous donations to our Harvest appeal. We received the following letter from Stretford Food Bank:
ITV Media Trip
On the 21st October 2015, five lucky Lostock students were given an amazing opportunity to work alongside the Granada news team at ITV. Students from Lostock College represented the North West as part of the Creative Diversity Network event which was held in various newsrooms across the UK.
Granada, ITN, Sky, Channel 4, 5 and CNN welcomed children and young people from diverse backgrounds to help give them a taste of what happens in a newsroom, and to challenge preconceptions about working in the media.
Lostock students chatted to different members of the Granada news team from sound engineers to editors to the news readers themselves. They were also able to get hands on with the equipment in the gallery and in the news studio - where all the action takes place! A unique experience for all, students watched the local news at 6pm while it was being filmed in front of them, through glass screens. Afterwards, students took it in turns to have a go at presenting a short news segment which involved the use of ear pieces, auto cue and (at times) ad-libbing. The students did us proud! One pupil was lucky enough to present alongside the famous Tony Morris who recently celebrated 10 years at ITV.
It was a wonderful, fun and educational afternoon. Students had a glimpse into a really exciting work place and left with the knowledge that news and media are career paths open and accessible to all.