ICTC
Information Communication Technology and Computing have an important role to play in the both the curriculum of Lostock College and in the wider digital world. It enhances the learning process through an extensive range of activities and provides our students with transferable skills that can be applied across all subject areas. The courses in Key Stage 3/4 are delivered using a broad range of applications, which reflect those used in society. Computing ensures that students become digitally literate – able to use, and express themselves and develop their ideas through, information and communication technology. The contexts in which the courses are taught enable our students to apply ICT solutions to real problems and develop their independent skills and working methods.
Key Stage Three
The main aim of the KS3 course is to ensure that all students receive their full National Curriculum entitlement, and can successfully develop the necessary skills, confidence, and capability to enable them to progress into KS4. Students are taught in mixed ability groups for two hours per week.
Year 7
| | |
| --- | --- |
| Organising | An introduction to using the school network and includes aspects of folders and files, and graphics, through practical activities in the context of the Secret Agent theme. |
| Communication | Students will develop basic and advanced communication techniques through independent development of a professional presentation suitable for a specific audience and purpose. |
| Visual Programming | Through challenging, creative activities and using well established game authoring software, students will learn the fundamentals of algorithmic thinking, using their knowledge to design and build an engaging two player game. |
| Modelling | The unit develops an understanding of the basic concepts of modelling by including cell referencing, spread sheet basics, and develop mathematical fluency through the development of formulae and making their own choices. |
| Exploring Data | Carrying out increasingly challenging practical exercises, students design database tables for a given purpose and learn about suitable field names and data types for storing data. They then build a database table from designs and learn how to create queries. |
Year 8 & 9
The ICT course in Years 8 and 9 continues to extend these skills, and students are encouraged to tackle more complex ICT tasks in order to present their own solutions to the problems they are faced with. They become more autonomous in their use of ICT and are able to make informed choices in order to solve these problems. Students also consider the use of ICT in society and reflect on the impact it has made.
| | |
| --- | --- |
| Organising For The Web | Students work collaboratively in teams to research their local city, research and design a World Tour schedule and plan flight routes, before planning their tour itinerary using an online platform. |
| Digital Media | Students analyse features of graphics packages to help them create a logo for their World Tour and then design and create their own tour wristband. Students then embark on a series of challenging activities involving the use of Audacity to record a professional quality podcast. |
| Visualisation | Students are encouraged to take their spread sheet skills to another level and will learn the concepts of conditional formatting and use these new skills to develop a spread sheet for a purpose. They then move into the modern world of the 'infographic'. |
| Web Programming | Students will learn how to recognise and combine elements of simple webpages to promote their world tour. Students move on to develop a web page for a mobile platform involving text and animated media elements. |
| Networks and the Web | Students learn about networks and use a model to work out the cost of networking a real computer system and produce a network diagram in a desktop publishing package to communicate their findings. |
Further Units
| | |
| --- | --- |
| Organising Business | Considerations for your app business. |
| Python | Python programming in a business context. |
| Website Coding | Produce full and interesting websites. |
| Advanced Data | Find out how devices use data. |
| Smartphone Apps | Programming techniques to produce an app. |
Key Stage Four
In Key Stage 4, students will explore how digital technology impacts on the lives of individuals, organisations and society through the teaching of the Edexcel GCSE ICT course. They will learn about current and emerging digital technologies and the issues raised by their use in a range of contexts. This will develop awareness of the risks that are inherent in using ICT and the features of safe, secure and responsible practice.
The practical element of the course will broaden and enhance their ICT skills and capability by working with a range of digital tools and techniques to produce effective ICT solutions in a range of contexts. They will learn to reflect critically on their own and others' use of ICT.
ICT across the Curriculum
ICT is also used across the College curriculum by subject areas to support teaching and learning. With five dedicated computer suites, a Mac Suite and further resources available within departments, we are able to provide opportunities for all.
Extra-curricular ICT
The ICT suites are staffed daily to enable students to complete homework, research tasks or generally make use of the resources. We believe that no student's learning should be disadvantaged through lack of access to technology. Drop-in use is available before registration, lunch times and most afternoons until 3.45pm.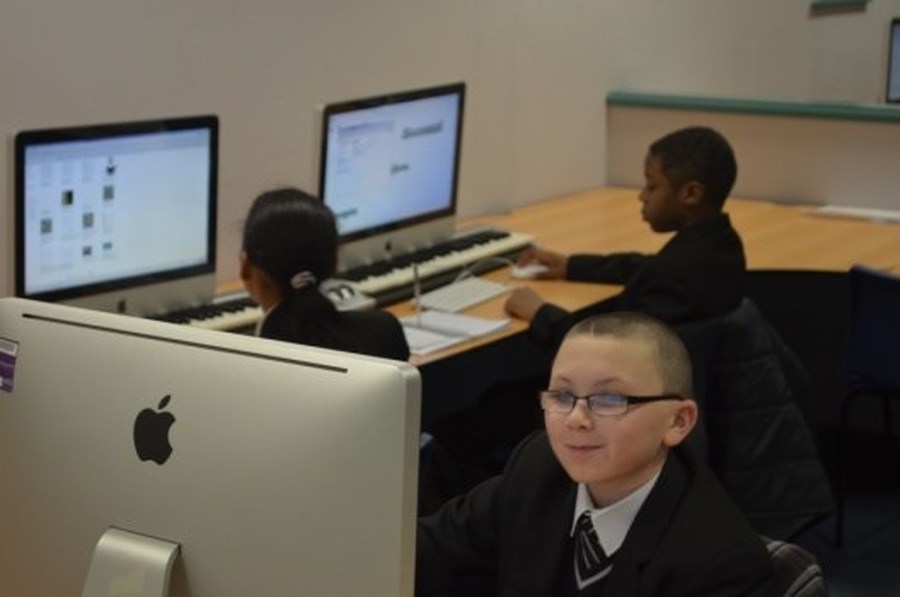 Additionally, there is the opportunity for students to develop their media aspirations by joining the school Media Team. This student-led team take responsibility for the digital recording of school shows, trips and events, as well as involvement in school publications such as the yearbook and school planner.