Events Information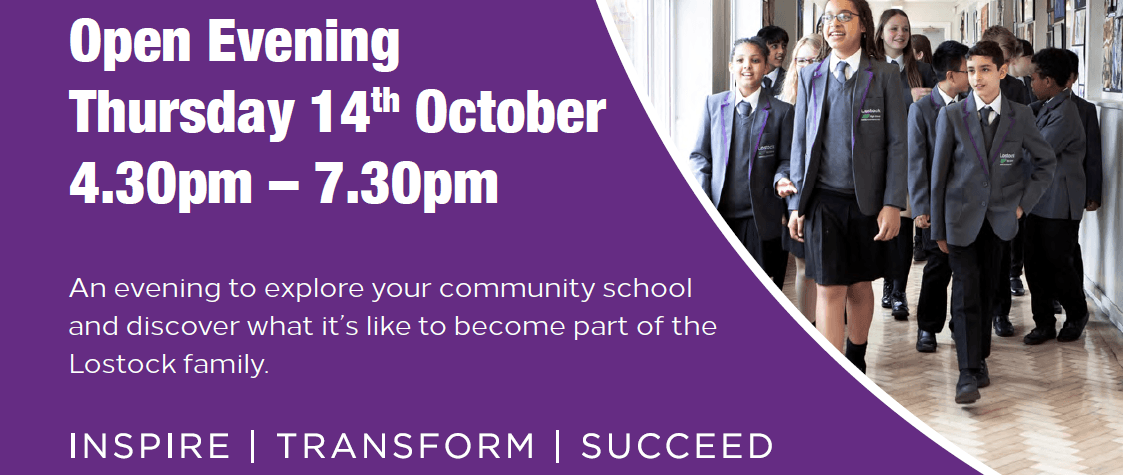 We're happy to announce a return to in-person events with our Open Evening being confirmed for Thursday 14th October 2021. This will be an opportunity for families to meet the pupils and staff of our wonderful school as you make the decision for the next stage of education. You'll have the opportunity to tour the school to see our subjects in action, as well as meet the Head Teacher who will address visitors at 6pm in our Arts Theatre.
This event is also an opportunity for parents and carers of our current Year 7 students to meet form tutors, having missed out on this up until now.
We look forward to seeing you all!!
30.09.2021 - Year 11 Parents Evening
Our first Year 11 Parent's Evening of the year will take place on Thursday 30th September 2021. This sees a return to in-person attendance to meet with staff, as well as a range of providers from colleges, The National Apprenticeship Service and local housing association (who are helping us with our careers programme) all in attendance.
01.07.21 - Sports Day 2021
In a return to some normality after a year of disruption and cancelled events, we finally managed to get back out on the track for our school Sports Day at Longford Park. Our event took place on Thursday 1st July and was lots of fun.
The lasting memory from staff has been the team mentality, and the support of each other throughout the day. Mrs Brookes summed up the day by saying "I've really enjoyed being back at Longford Park today. What I've really liked is the students and staff supporting each other. Even when students have struggled to finish, we've had people going back to help them and cheer them over the line."
This was a sentiment shared by Miss Shaw who said "It's very nice to be back at Sports Day, I've had a lovely time. There was a lovely moment when Aaron in Year 10 went back to run with another student over the finish line." Mr Pearson added "The students have tried really hard, been so kind, and have cheered each other on. It's really nice to see."
Mr Grant supervising the discuss noticed the commitment of some of our younger students, "It's been a beautiful morning and the weather is fantastic; everyone is out there enjoying themselves. I'm shocked how strong they are. I've had a little Year 7 almost match the Year 10s!"