An introduction to Kooth and Qwell
An introduction to Kooth and Qwell
29 June 2022 (by Gary Quinn (GQuinn))
Thu, 7 July 2022 @ 18:00 – 19:00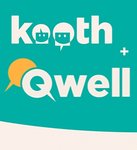 Kooth and Qwell are online mental health and wellbeing support services. We offer free, safe and anonymous mental health support, with no referral needed. Kooth provides support for young people and Qwell provides support for adults.
This session is aimed at Parents/Carers who live/work in the Northwest, Wales, and Isle of Man who want to know more about Kooth and Qwell.
What you will learn from the session:
- How each support feature of the website works
- How people can benefit from this service
- How we safeguard our users
We will give a live demonstration of the site and give you the opportunity to ask any questions you may have.
* A video conference meeting link will be emailed to you prior to the event.