Lostock In The Community
Here at Lostock High we appreciate our place in the local community. Get updates on all of the initiatives we have been involved in.
Care Homes Get Connected
iPads for Lostock's local care homes
- Beverley Park Care Home and Manorhey Care Centre
During these tough times it has been very difficult to spend time with your loved ones. However, it has been exceptionally difficult for elderly people as they are some of the most vulnerable when it comes to covid-19, especially during winter. Many of them need to keep distanced from their loved ones even after the lockdown restrictions have been lifted as they need to be shielded from the virus as much as possible.
Our Teacher at Lostock High School, Mrs Brookes, organised a fundraiser for staff and a creative competition for students with the challenge of writing a poem or producing a piece of artwork using the theme '2020 and its events'.
This fundraiser was organised to purchase iPads for two care homes which are local to their school. In total they raised £380 and purchased 2 apple iPads for Beverley Park Care Home and Manorhey Care Centre so that the residents can access video calls to their loved ones over the festive Christmas period and enjoy with their families whilst staying safe.

Article written by a Year 11 Student
Welcome To The Jungle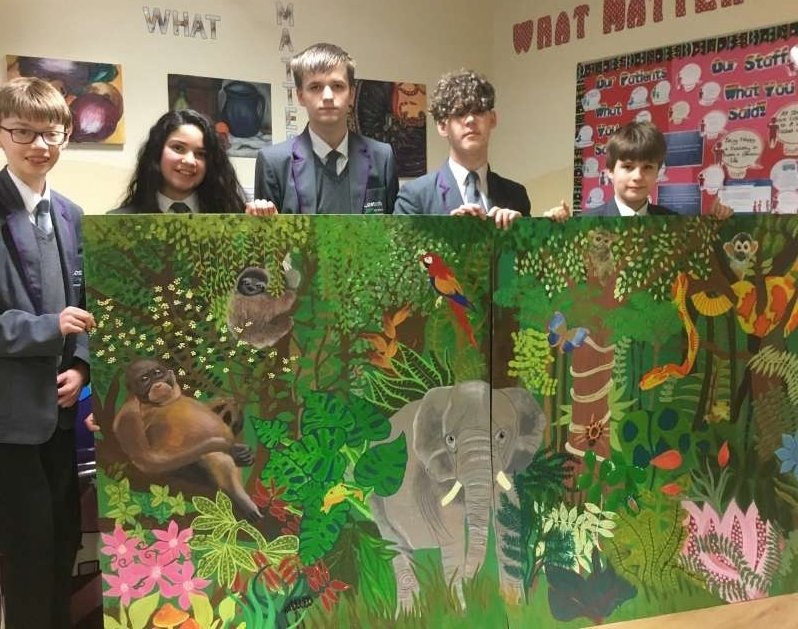 Lostock's inspiring students showed their caring side when they delivered a magnificent mural they made in school to a children's ward earlier this year.
Our youngsters presented the eye-catching piece to Trafford General Hospital and the intricately-crafted jungle scene - which includes elephants, snakes and a tiger - now hangs on the wall near the operating theatre at Trafford General Hospital. It is hoped the artwork will help to put poorly youngsters at ease before they have an operation.
Ms Ford whose mother is the Children's Ward Manager, said: "It was my mum Sharon's idea. She was looking for some art work for the Children's Ward, so I spoke to the head teacher and art teacher Mrs Davies who really liked the idea. I've seen the kids making it from scratch. They've created a masterpiece."
Ward manager Ms Boyden said: "We wanted to create an area for the children in the theatre area. We wanted to have a jungle theme, but we really needed art for the walls."
Art teacher Ms Davies said "There's so much to look at in the picture. It will really take their minds off what they're going through. It's been a labour of love for everyone. The students have been coming in at 7am."