I'm a parent ... Get me out of here 2023
I'm a parent ... Get me out of here 2023
3 January 2023 (by Gary Quinn (GQuinn))
A fully-funded six week course for parents with children 11+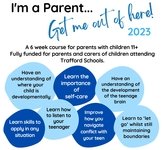 A six week course for parents with children 11+. This is fully funded for parents and carers of children attending Trafford schools.
Have an understanding of where your child is developmentally
Learn the importance of self-care
Have an understanding of the development of the teenage brain
Learn skills to apply in any situation
Learn how to listen to your teenager
Learn how you navigate conflict with your teen
Learn to "let go" whilst still maintaining boundaries
Contact alison.hambleton@thecfc.org.uk to book or for more information about the cohorts. Images attached.
Cohort 1 - 23.02.23 - 30.03.23 - 10am - 12pm at the Counselling & Family Centre, 40 Mayors Road, Altrincham, WA15 9RP
Cohort 2 - 23.02.23 - 30.03.23 - 6pm - 8pm online sessions
Cohort 3 - 19.04.23 - 24.05.23 - 9.30- 11.30am at the Counselling & Family Centre, 40 Mayors Road, Altrincham, WA15 9RP
Cohort 4 - 19.04.23 - 24.05.23 - 12.30- 2.30pm at the Counselling & Family Centre, 40 Mayors Road, Altrincham, WA15 9RP
Cohort 5 - 20.04.23 - 25.05.23 - 6pm - 8pm online sessions